Collections
Collections To embody our dedication to traditional, artisanal techniques and luxury handcrafted design we've focused the talents of our designers and makers on a core collection of three womenswear styles. Allow us to introduce you to our signature Çaplait collections.
The Jisti
The Jisti takes its name from a traditional embroidery technique, also known as Phulkari. The word describes the skilfully stitched, floral motifs which originate in Pakistan; 'phul' meaning flower and 'kari' meaning craft. Often inspired by real life, our three tiered design echoes the wheat and barley heads which have graced shawls and clothes for generations.
Tempering the intricacy of the embroidery is the shoe's contemporary overtones, communicated through the pared down colour palettes and an understated mood. Canvas cotton straps sit against the sumptuous leather lining and soles, offering a softer update, while the subtly squared open toe provides another feminine twist. Choose from black and gold, white and pink or white and navy.
The Swati
Our most decadently embroidered style, the Swati takes the traditional, masculine Peshawari chappal and injects it with a softer edge and a decidedly sumptuous undercurrent. While the name is borrowed from a famous, historical tribe, the ornate embroidery work is inspired by the most gifted Phulkari embroiderers who would call upon their skills to create highly detailed geometric patterns.
Imagined in tonal fusions of black grey, gold and cream, the placement of each motif is designed to complement the sweeping, cross-over straps which define the chappal. Discover the Swati in black and gold, white and gold or white and grey.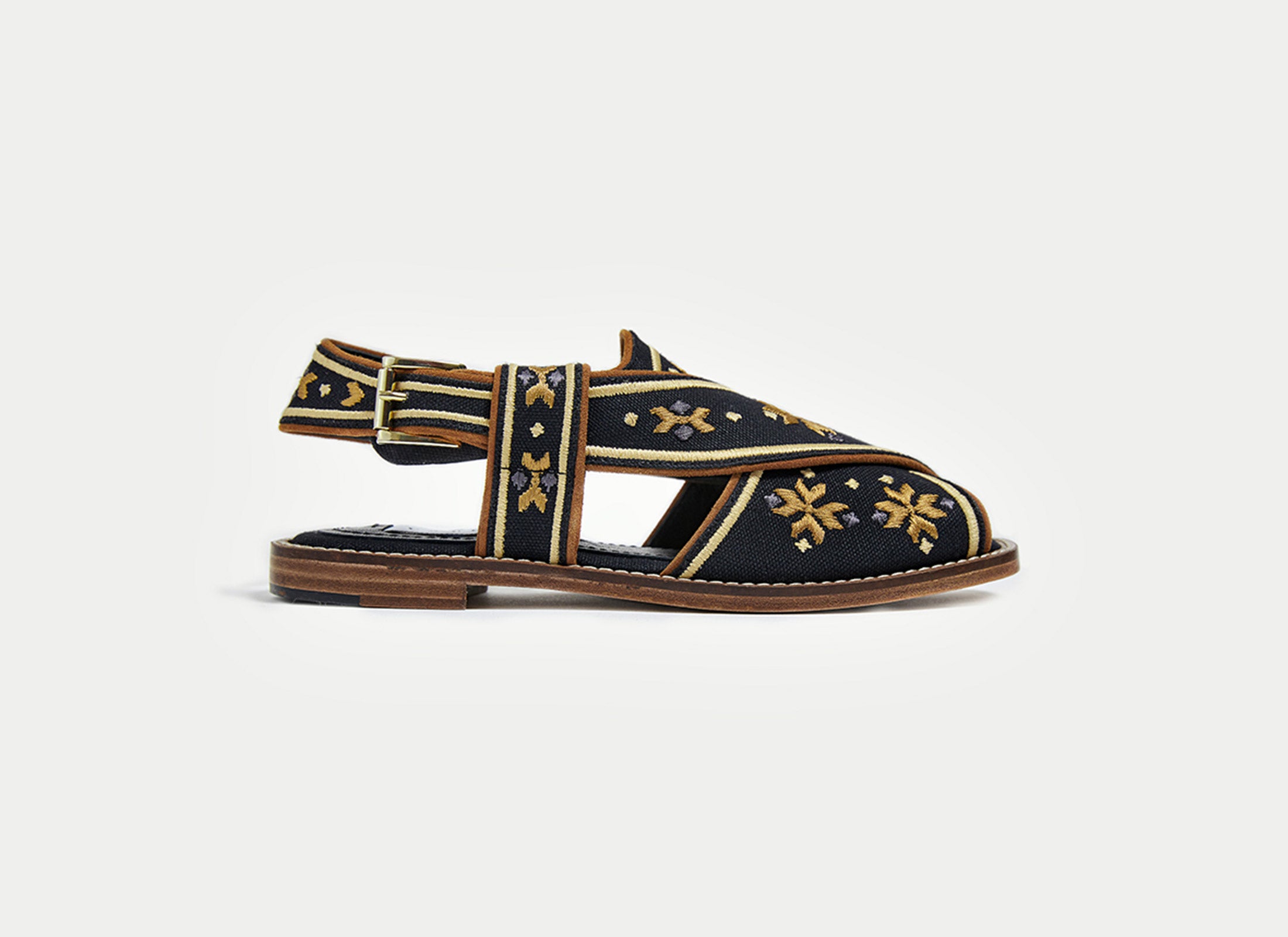 The Hara
The Hara, named after the Hazara region in Pakistan, treads the line between tradition and modern minimalism. The pared down, unadorned straps mirror the practical simplicity of the original chappal, yet the sumptuous suede provides a luxurious diversion towards contemporary styling.
The indulgence of the suede and the understatement of the design convene to create a refined and versatile shoe, available in a choice of deep navy, rich camel and cool grey.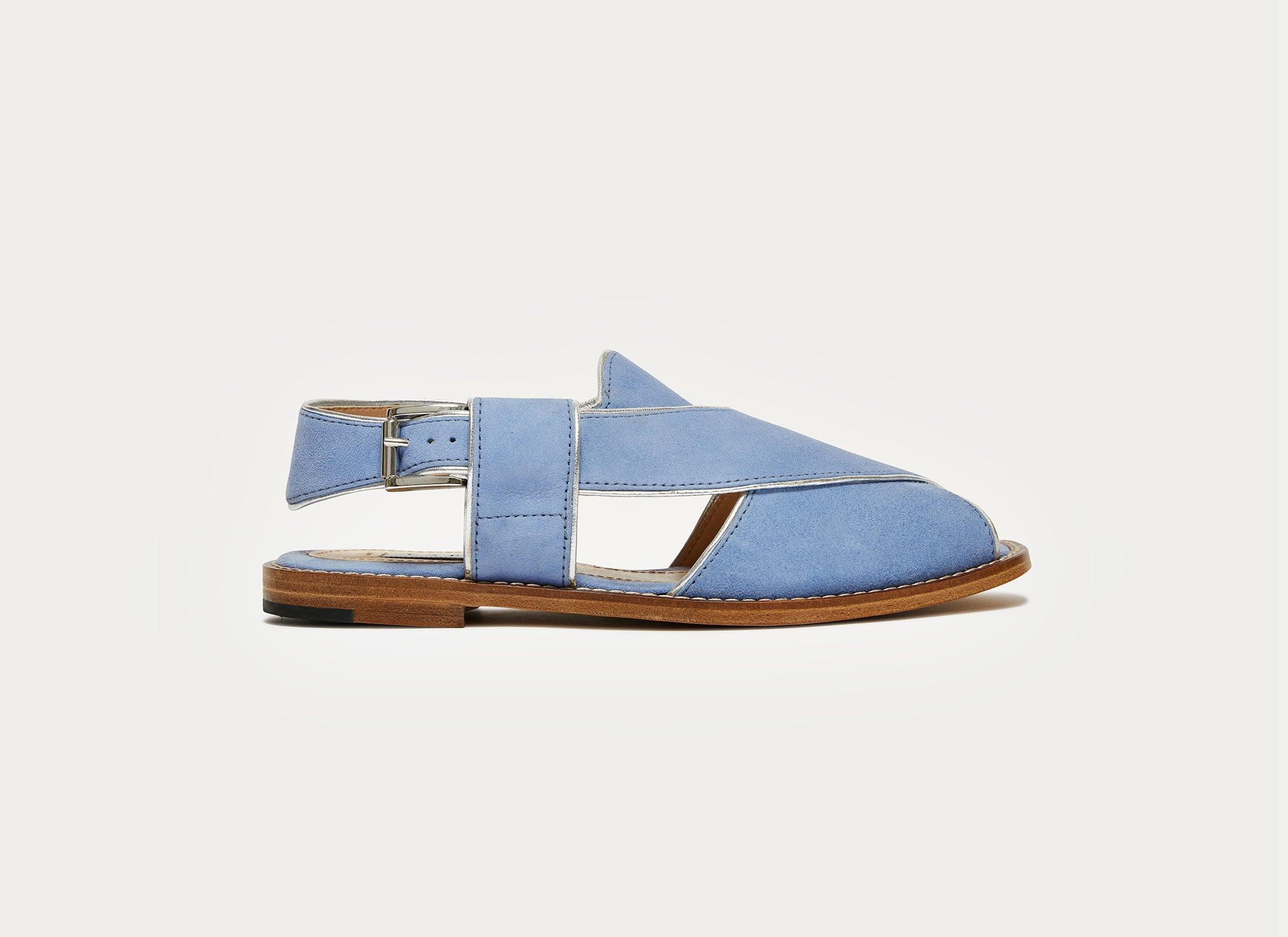 The Balochi
Inspired by Balochi taanka embroidery, The Balochi pays homage to regional gypsy styles. Named after the Balochistan regions in Pakistan, original bohemian designs defined tribal identities. Characterised by their colour-popping threads, geometric stitching and mirror embellishments, they have long been used to add flair on cuffs and tunics.
Our design takes inspiration from this intricate detailing. The Balochi not only celebrates traditional taanka techniques, it also combines it with our signature canvas cotton straps, luxurious leather lining and soles, and a softly squared toe. Sumptuous, feminine, and boho-chic, The Balochi is balanced by a muted colour palette. Collect in either black, coral, brown, or blue with complementing piping.